Anyone who loves Halloween will howl at the moon with delight when creating a ghoulishly gorgeous Halloween wedding during fall's most bewitching season. A magical offering of congratulations goes out to all of those mysterious ghosts and goblins who are about to stir the marriage brew. With a little help, guests will be joyfully celebrating the happiest day of your lives in trendy and fun Halloween style.
Halloween weddings are as unique, entertaining and beautiful as a wedding can be. Cooler fall weather with romantic foliage colors sweetly invites a wonderful celebratory feel. What a perfect scenario for incredible weddings to come alive with personality while showing off some really fun ways to incorporate personalized flair.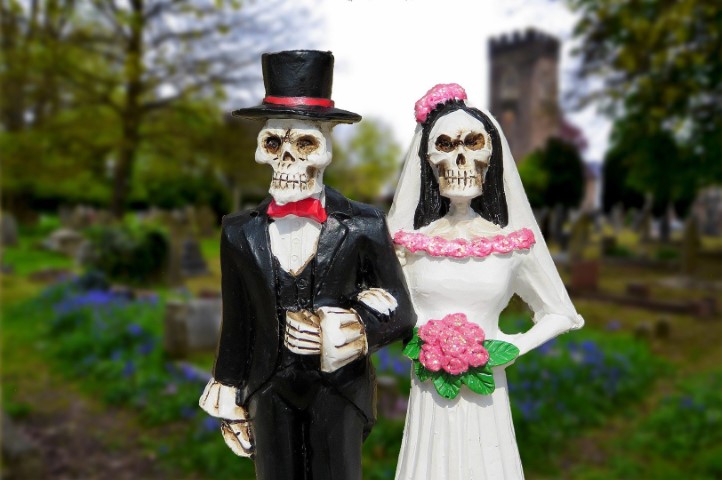 To Personalize or Not to Personalize
Accommodating wedding and reception planning processes is key for a lovely outcome. Deciding on what type of specific personalizing is desired matters. That is why it is necessary to have the option to design-your-own candy wrappers and favors or go with a less personalized and more traditional design.
Fall Wedding Surprises
A Halloween wedding or wedding reception is an ideal time for presenting ingenious ways to impress guests. One easy way is to consider the season. Halloween stirs up notions of all kinds of fabulous decorations, tricks and treats. That's what makes it fun. A great way to personalize beautiful fall weddings with class and style is by offering guests custom wedding candy, cards, invitations and reception favors.
Chocolate Wedding Magic
It isn't everyday delicious chocolate candy has your name on it. Guests naturally love the idea and the taste of rich and delicious chocolate candy. Show them this candy favorite all dressed up in a custom chocolate candy wrapper designed just for them with no tricks attached. Design-your-own chocolate bar wrapper ideas are endless.
Design wrappers with the happy couple's favorite saying or song title. Add humor or other memorable thoughts to wrappers using special quotes or poetry. It's all about happy, fun-filled experiences for guests to enjoy as they celebrate the bride and groom's biggest day.
Personalized chocolate candy wrappers are such extraordinary icons in a wedding setting. Guests will talk about them long after the special day is over. Chocolate bar wrappers come in various sizes to accommodate just the right specialized accent.
Popular Hershey bars wrapped in gold, silver, lavender, pink and other outstanding color options also go expertly with all wedding color themes. Chic Belgian chocolate bars are artfully wrapped in food safe silver foil. Milk chocolate wrapped in silver foil and dark chocolate wrapped in gold foil provides decadent wedding reception treats for discerning tastes.
Oodles of Halloween Treats to Try
Trick-or-treating has always been an occasion filled with suspense and lots of happy anticipation. There is something about the element of surprise treats that excites kids and adults alike. Wedding and reception treats are no exception. People love to be a part of the special day in special ways. Offering a wide variety of special treats that invite loving smiles is exactly what should happen. Personal touches of Halloween images or warm and inviting fall colors added to wrappers, and stickers offer just the right amounts of seasonal pizzazz.
Lollipops to Love
Adding a little whimsy to those specialized treat selections is snazzy and encourages light-hearted ambiance with a twist. Speaking of twists, adorable 2 inch swirls of lollipop fun comes in all kinds of happy colors. These lively little sweets are the ultimate treat for kid's tables and used in flower arrangements. Darling stickers with favorite designs can be added to sweeten the lollipop deal.
Minty Mementos that Melt in Your Mouth
Customize adorable mint books that look like match books but hold a minty candy inside. For a lighter-look, mint to be lifesaver mints in a clear wrap with attached customized paper header are so easy to place in baskets, bowls or used as tasty little accents strewn individually around entry tables.
Taste Bud Teasing Candy Tins
Talk about the element of surprise. Darling, round candy tins with included customized sticker are the cutest party favors ever. These handy wedding favors can hold all kinds of sweet surprises. Fill with M&M's, mints or jelly beans. Have guests each write a special note to the bride and groom to be placed inside the tin as a going away gift. Sturdy multi-purpose tins are the perfect solution to hold colorful confetti to be tossed as the bride and groom are whisked away. These trendy tins make great favors to hand out during any time of the wedding and reception.
Quench Thirsts and Candy Cravings
Ghirardelli Chocolate Squares with a picture of the bride and groom is a delectable combination of festive beauty and flavor. Both front and back sides of the wrapper can be used for adding more information such as dates or a different photo. What a fun and tasty way to feel closer to the happy couple before, during and after the wedding.
Complement Ghirardelli's tasty chocolate 1.75 x 1.75 inch morsels with cool and refreshing water bottles personalized with identical photo labels or other treasured photos and messages. Drop these two darling personalized items in a colorful Halloween bag or large seasonal fabric square tied with raffia ribbon for guests to appreciate on the way home.
Awesome Invitations and Cards
Creating gorgeous engagement and wedding announcements during the Halloween and fall seasons is a very romantic avenue for the bride and groom to express their love their way. Intricately sketched black botanicals or a beautifully framed foliage wedding invitation displays refined elegance. Touches of black add elements of sophistication and allure.
Wedding invitations and cards are as individual as the tastes from whence they are inspired. Gorgeous fall colors of purples, reds, oranges, greens and yellows are pleasing to the eye and the soul. Nature's inspiration is a wonderful way to create the most intimate or whimsical invitations desired.
Mix it up with red and black "Save the Date" cards. Sending white and black wedding announcements with a personalized mint is an original way to capture the attention of invitees. Long gone are the days of limited wedding announcements styles and designs.
Why Candy is the International Wedding Language
Halloween and fall wedding celebrations are filled with amazing decorative and expressive potential. By raising the bar with sweet surprises during wedding and reception occasions, everyone feels like a part of the special day.
There is a very clear connection to candy and feeling moments of joy and happiness. From weddings to movie theaters to holiday stockings filled with all kinds of sugary sweetness, candy holds a distinctive place in arenas of all types.
Weddings in particular are priceless gathering opportunities whose foundations evolve around joyful experiences. Each piece of candy that is added to this occasion is considered as a love offering.
From the first enticing announcement to those final wedding day farewells, cherish the process and always keep candy in reach. Guests love to find little surprises in unexpected places. Kids love being able to treat themselves to yummy goodies, especially around the Halloween season. Fun photo opportunities arise as chocolate lovers take their first bite into that chocolate bar they have been craving. Handy mints refresh and satisfy taste buds.
Every last detail is a reflection to be remembered. By including unexpected Halloween delights, family and friends will feel the love in whole new ways. Now is the time to turn this incredible day into something magical!