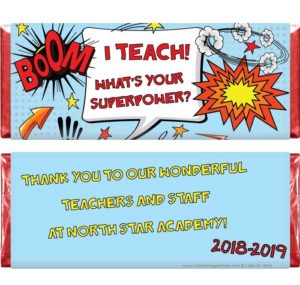 Teachers deserve appreciation for all their hard work and countless hours. Why not recognize them with this small token of appreciation. These custom candy bars feature a comic book theme and are sure to excite your staff. The back of the personalized wrapper features a special thank you message acknowledging their efforts and dedication to the students.

Welcome your students back to school with these sweet candy bars. Kids love chocolate and will appreciate receiving these fun, energetic custom creations. The front has a fun, colorful, starburst graphic and the back features your personal inspiration message.

These fun, colorful, crayon themed candy bars are the perfect item needed to welcome kids back to school. The front boldly states welcome back to school, while the back of the custom wrapper has a custom message from you to the students.

Rainbows of kids back to school candy bar wrappers is a great treat to hand your students as school starts back up. The lively wrapper will be a hit with students. The front features a rainbow of children doing various activities, while the back of the personalized wrapper features your own custom thank you message. You can also include your name, class and year.