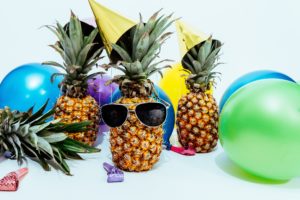 If you think you've thought of everything to do for birthday parties, hold onto your hats. It's extremely hard to find anyone who doesn't appreciate a fine bar of chocolate. This year, delight your guests in wonders of scrumptious bites with party favors, decorations, customized t-shirts, other customized items and ideas for extra fun.
Willy Wonka Golden Tickets
You've probably heard the lyrics, "I've got a golden ticket" or at least appreciate the remake of Willy Wonka. You can make finding a golden ticket a reality for one or several of your guests. Willy Wonka golden ticket inserts that sit inside chocolate bars will make your party one to remember. Arrange for one or several guests to win prizes when they find a ticket. Allow your guests to choose from an assortment of chocolate bars. You can use this option to choose a person to participate in a magic act too.
If your guests are unfamiliar with Willy Wonka, put on the original or the remake of the movie for them before handing out the chocolate, so they'll have a frame of reference. Imagine the excitement that'll ensue when they realize the movie is real!
Candy Buffet
You can imagine the look on your guests' faces when you tell them there's going to be a candy buffet. Many kids have dreamed of this possibility, but now it can be a reality. You can modify the candy buffet so that your guests won't completely fill up on candy and other sweets. For your candy buffet, you can provide little bags to fill up. You can choose healthier alternatives for cake if you wish, but hey, birthdays are once a year. You can also schedule your birthday party to start at 2pm. This way, guests will be hungry in time for dinner.
Scavenger Hunt
Create a scavenger hunt game with personalized Hershey wrappers. Place pictures of the items you want to be found on each bar of chocolate. For instance, put a picture of a certain color balloon that's easily recognizable. When guests find it, have another chocolate there with another picture. At the end of the game, allow guests to find a special treat, such as the candy buffet, which can be hidden behind a group of balloons, and each guest can also keep a bar of chocolate.
A similar game can be played with miniature Hershey bars, or you can have your guests play a name game. Have every guest make up a name for themselves that they can wear on their shirts and dresses with blank customized labels. Give each person one bar of chocolate. If anyone calls a guest by their real name, they must give up their chocolate. However, it'll only be temporary. At the end of the party, the person with the most chocolate wins a prize. Give everyone their chocolate back, so you won't have any sad guests.
Personalized Table Places with Hershey Bar Wrappers
If you want to create a more formal atmosphere and seating arrangement for your guests, you can provide personalized candy wrappers on bars of Hershey's or Belgian chocolate detailing each person's name so that they'll know where to sit. Each guest will feel honored to see their name on their individual chocolate bar. There are several types of Hershey bars to choose from: Hershey's Gold, Hershey's Milk Chocolate, Hershey's Special Dark and Belgian chocolate.
Beautiful Birthday Parting Gifts
Personalized chocolate bars can be given out after the party as parting gifts. You can either place the name of each guest on your choice of Hershey bar, or you can put the name of the birthday boy or girl and the date of the party on the wrapper. You can also choose customized Hershey kisses for goody bags.
You can place customized labels on each bag. Mix it up with lollipops, stickers, chocolate, customized tins and other treats. Your party will be one they will talk about for weeks after.
You can create a treasure hunt in a similar way with mixed items. Provide prizes for those who find the most treasure items. However, keep extra prizes for any child that did not get a lot of prizes during the party so that everyone leaves happy.
Carry the Personalization to Other Items
To keep within the theme of a customized party, provide your guests with customized stickers for lollipops, waterproof water bottle labels and favor tins amongst other customized ideas. For instance, take a group photo of your guests along with the birthday boy or girl, and make customized birthday t-shirts to commemorate the day. These make a nice "thank you" gift for attending that guests will keep as keepsakes, and customized t-shirts serve as a special memory of the party between the guests. Be sure to send out beautiful invitations for everyone before the party!
Birthdays are extra special occasions. It's fun to go all out for them. This year and every year, celebrate life for all its goodness. You can find everything you need at the Candy Wrapper Store. Happy birthday!