Want to get a head start on your Christmas cards? Want to send something unique to your friends and family? Check out our Photo Candy Bar Wrappers. We can create a custom candy wrapper for you to send as your Christmas card. Simple, quick, done! After we personalize the wrapper for you and wrap them around the candy bar with your choice of coordinating foil color, we ship them to you. Then you can either deliver them yourself or order our candy bar mailers so you can drop them in the mail to your friends and family.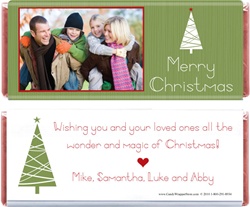 Photo Merry Christmas Tree 1.55 oz Candy Bar Wrappers Modern Christmas candy wrapper features green stripped background with whimsical tree on the front. This simple and elegant design is sure to please.
If you just need a little party favor for your upcoming Holiday festivities, then get our Miniature Candy Bar Wrappers.
We also have several other products available that are sure to be a hit at any Christmas or holiday event. From engraved chocolate bars to assorted chocolates to chocolate liqueur cups.