Embrace the anticipation and excitement of welcoming a new little one with our charming and heartwarming "Bearly Wait" baby shower theme. This delightful theme captures the essence of the joyful journey ahead, celebrating the upcoming arrival of the baby in a way that's as cute as it is endearing.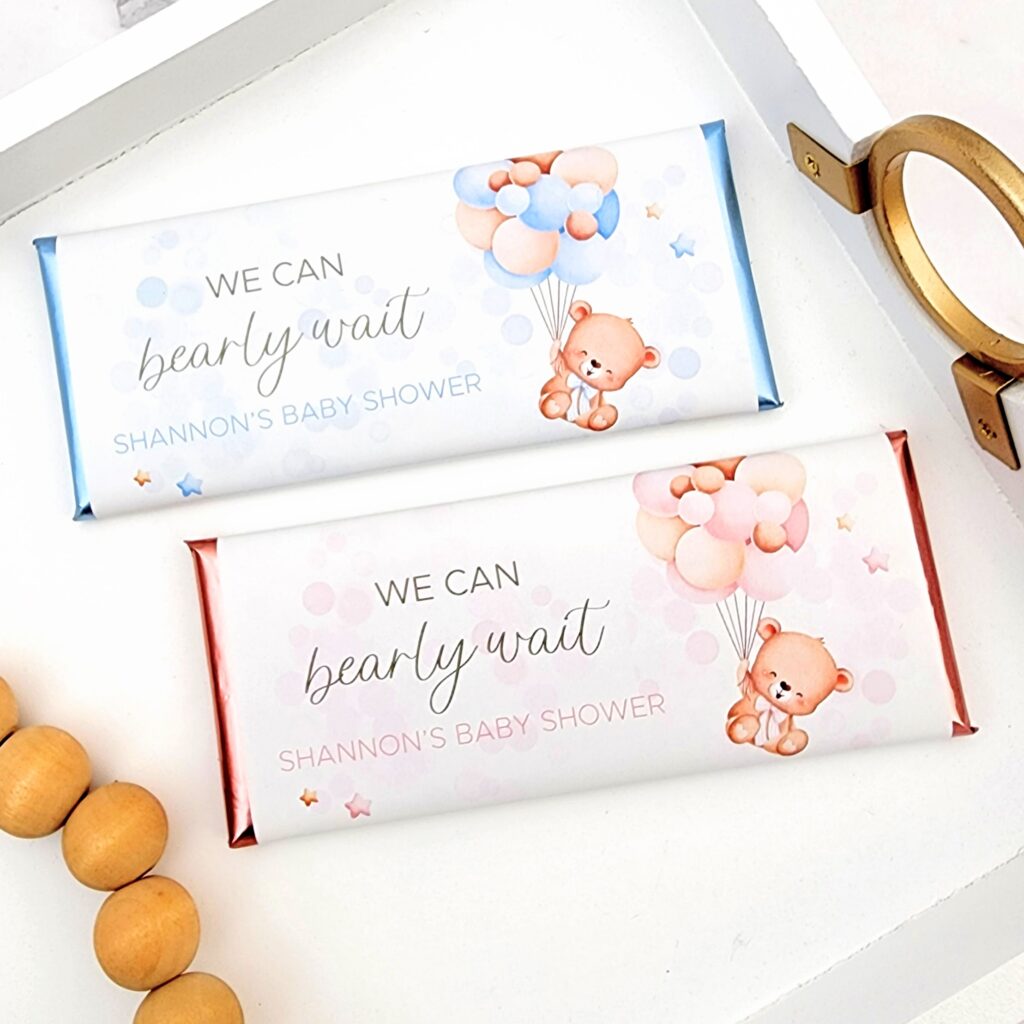 1. Favors: Carry the theme through to the party favors by gifting guests with adorable bear-themed goodies. Personalized candy bar wrappers featuring the baby's name and the shower date make for sweet keepsakes that guests will cherish.

2. Adorable Bears: The "Bearly Wait" baby shower theme revolves around the irresistible charm of bears. These cuddly creatures symbolize the parents' eagerness to meet their baby and create an atmosphere of warmth and coziness.

3. Soft Color Palette: The color palette for this theme is a blend of soft pastel shades such as blush pink, baby blue, mint green, and pale yellow. These gentle hues create an ambiance of serenity and innocence, perfectly mirroring the tender emotions associated with a new arrival.

4. Whimsical Decor: Transform your venue into a whimsical wonderland with bear-themed decorations. Adorn tables with bear-shaped centerpieces, plush toys, and bear paw prints. Hang paper lanterns or banners featuring cute bear illustrations to add a touch of playfulness to the space.

5. Sweet Treats: Delight your guests with an array of adorable bear-inspired treats. From bear-shaped cookies to cupcakes adorned with fondant bear toppers, the dessert table becomes a feast for the eyes and the taste buds. Don't forget a show-stopping bear-shaped cake as the centerpiece!

6. Personalized Details: Customize your "We Can Bearly Wait" theme with little touches that make the celebration truly special. Sweet candy bar party favors, custom invitations, banners, and signs featuring the baby's name and due date create a sense of intimacy and anticipation.

7. Activities and Games: Keep the excitement rolling with fun activities and games that incorporate the bear theme. A "Guess the Bear's Name" game or a bear-themed diaper cake-making contest adds an extra layer of enjoyment for your guests.


Why Choose the "Bearly Wait" Theme:

The "Bearly Wait" baby shower theme encapsulates the tender emotions of eagerly awaiting the arrival of a little one. It combines whimsy and warmth, creating an atmosphere that is both inviting and heartening. This theme provides the perfect backdrop for celebrating the parents-to-be and showering them with love, support, and excitement as they embark on this beautiful journey into parenthood. So, Embrace the "we can bearly wait" theme and let the celebration be as heartwarming as the love that's about to bloom!